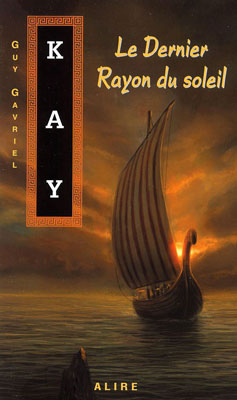 Illustration : Jacques Lamontagne
In the north, the lives of men and women are far from easy. Survival in these lands, with their savage landscapes and their extreme weather, is a constant struggle. That is why, for generations, the Erlings of Vinmark ride in their dragon-ships to go pillaging the lands of the Cyngaël and Anglcyns, sowing death in their wake.
But times are changing. That is what Red Thorkell is thinking, at least ; a companion in arms of the legendary Siggur Volganson, he is taken prisoner during a punitive raid against the farm of Brynn ap Hywll, the Cyngaël who killed the Volgan. Alun, the son of Prince Owyn of Cadir, comes to think along the same lines when, present by chance during the terrible fight, he sees his reality turned upside down in one night, discovering love, death... and the people of faerie.
But it is Aeldre, king of the Anglcyns, who is the most aware of the changes that threaten the whole north, for only he understands that his people's survival depends on the survival of the two other kingdoms, so inextricably are woven the threads of their destiny...