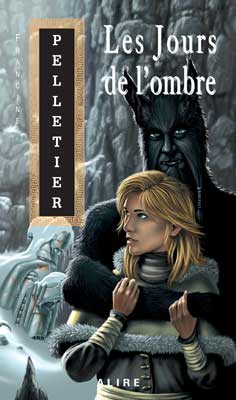 Illustration: Guy England
Sha'Ema, a young leather worker, is fleeing her village. Under her left breast an eye is beginning to form. If the priests hear of it, they will mutilate her and exile her to the mountains, and her family will be suspected of impurity.
In fact, on the planet Og'umbi, they say that these changes come from unnatural unions which once took place between humans and the Akae, the beings-in-flux that invaded the planet a long time ago. And though these monsters have disappeared, the evil is still omnipresent. For instance, during her escape, Sha'Ema meets Nosh, the man with the body of a beast, then Herbé whom a change has made half-human, half something else.
While trying to learn more about these metamorphoses in the great city of Vassilor, She'Ema hears for the first time about Professor Valère's theories. Together, they will go deep into the heart of the Ueg Mountains in search of a truth, which will surpass anything they suspected.
Les Jours de l'ombre (Days of Shadows), a new novel by Francine Pelletier, the author of the unforgettable trilogy Le Sable et l'acier (Sand and Steel).