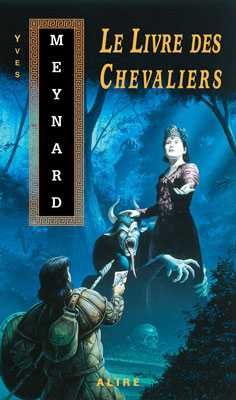 Illustration : Guy England
Oppressed by strict, petty adoptive parents, Adelrune always escapes to the attic where he has found a book filled with enchanting pictures. Each one represents a different man, most often in armour and portrayed in situations that are sometimes agreeable, sometimes perilous, but never ordinary.
Obsessed with these images, Adelrune wants to learn how to read in order to understand the accompanying text. But in Faudace that means going to the Canon House where, under the stern discipline of the Didactors, he will have to memorize not only the Rule but all the Precepts and all the Commentaries that go with it.
Fortunately, the wonderful tales of the Book of Knights will help the child to bear his bleak fate. One night, he leaves Faudace for the dark forest that surrounds the town. In his twelfth year, Adelrune has decided he too will be a knight !
This is the beginning of the most beautiful tale told in the Book of Knights...