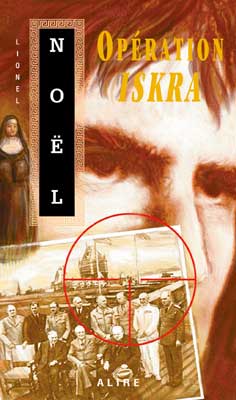 Illustration : Bernard Duchesne
Since they will be finalizing the plans for the great Allied landing at the conference, Joseph Stalin has been invited to take part. But the master of the Kremlin will not go to Quebec City. His secret service has informed him that Adolph Hitler is sending a squad of assassins to kill the government leaders. Since he can't warn his allies without giving away his sources, Stalin launches Operation ISKRA. Immediately, in Boston, an alcoholic Irishman, Egan O'Shea, a polyglot brawler recently recruited by the OSS, is contacted by a member of Soviet counter intelligence.
What O'Shea learns forces his superiors to send him to Canada to investigate possible German infiltration. Disguised as a reporter, O'Shea begins his search with the help of Lieutenant Anne Doucet, another reporter, but the irascible Irish man is less than enchanted with her seductive presence, since Doucet is as obstinate as he is !
In Montreal, then in Quebec City, the two agents work day and night to flush out the German assassins... But how can they find the killers without knowing their faces or their cover, much less how they intend to assassinate Churchill and Roosevelt ?